Bluewater Bay Poker Club
Meets every Tuesday. Play begins at 6:00 PM.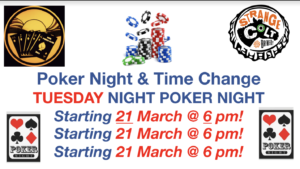 Venue, Strange Colt Brewery QUICK GUIDE AND RULES SHEET
*Copied and pasted from Jeremy. Please contact him for any info/issues 
Bluewater Poker Club's main purpose is to provide a night for community comradery while playing  poker and enjoying some delicious food and drink. 
Our philosophy is simple, if you don't like our rules or how we conduct our fun FREE tournaments  (FFPT), don't play. Also, we have no control over the Host location's furniture, food, beverages,  bathrooms, lighting, service, parking, etc. If you feel uncomfortable at a host location for any  reason, you should skip that location.  
Poker Club Tournament Directors (TD) /Floor People 
Jeremy Rennahan & Collin Smith 

Or designated person of the night if the two above are not present 
TOURNAMENT STRUCTURE 
All players will begin with 1,200 in chips. 

Seating is first come first serve (see rule #5) 

Dealer Button will be determined by first Ace up (Ace Spades is #1)  

Blinds will begin at 5/10 and increase every 20 minutes for Level 1 & 2 levels. Every 15  minutes for Level 3 & 4 and every 10 minutes for Levels 5 and up.  
❖ Full blind structure included below.  
At the end of Level 2, there will be a 10-minute break. During this break, chips will be  colored up and all players will be awarded one $500 purple add-on chip (must still have  chips to receive add-on and must have played in the at least level two). Players who show up late after Level 2 competion will not receive a $500 purple add-on chip.  

At the end of Level 4, there will be another 10-minute break. During this break, chips will  be colored up. No additional add-ons chips are provided. 

A full table is considered 7 players or more. However, in special circumstances, such as  space and final table, tables can accommodate up to 10 players.  

When only 10 or less players remain, play will stop, players will convene to selected final  table, pick a seat and will re-draw for dealer button. Final table is determined by either  the table with the greater number of players or the table to accomidate our elderly players.  

Players who arrive late to the tournament will still be placed into the tournament with a full  chip stack as long as tournament is within first level of play (20 minutes). Once tournament  has completed the first level, no additional players may join unless player has called ahead  and is approved by the TD. For players that did not call ahead prior to level one  completion, then the TD will approve with room consensus. (see rulke # 6). Players  approved to play prior to break showed up late  
BONUS HANDS 
1 
Bluewater Bay Poker Club 
Venue, Strange Colt Brewery QUICK GUIDE AND RULES SHEET  
To qualify for the listed bonuses, player must have the winning 5-card poker hand and both hole  cards must be played. Yes, the winning hand can be won after the flop. Excetion: Cracked Aces  and First Out are losing hands and must be played out to the River. After a bonus is won, then  that bonus is removed from the board and can no longer be collected with similar hands. A player  forfeits their bonus if they fail to collect bonus prior to the next hand being dealt. The bonus will  remain on the board and in play to be won. 
Bonus Hand 
Probability 
Odds 
Chips 

Royal Flush 

0.000154% 

649,739 : 1 

1,000

Straight Flush 

0.0015% 

72,192 : 1 

500

4 of a Kind 

0.02401% 

4,165 : 1 

400

Full House

(face over face)

(

note 1) 

0.1441 % 

693 : 1 

400

Flush

(note 2) 

0.1965% 

508 : 1 

300

Straight

(note 3) 

0.3926% 

253 : 1 

300

Cracked Aces

(losing hand) 

14.82% 

300

First Out

(note 4)

(losing hand) 

500
Note 1: Face over face. Face cards are Jacks, Queens, Kings or Aces.  
Note 2: Flush suits are selected each night prior to tournament play and posted on the board. Note 3: Straight cards (i.e. 3 thru 7) are selected each night prior to tournament play and posted  on the board. 
Note 4: If there is more than one person that goes out during the same hand, then the player with  the least amount of chips would collect the bonus. If there is a dispute, the TD will make the call  to either award the one with the least amount of chips or award both. 
BLIND SCHEDULE 
Blind levels for Level 1 through Level 10 are as follows:  
Level 
Small Blind 
Big Blind 
Duration

Level 1 

5 

10 

20 minutes 

Level 2 

10 

25 

20 minutes

Break 1 

Color Up All Red and Baby Blue Chips 

10 minutes

Level 3 

25 

50 

15 minutes 

Level 4 

50 

100 

15 minutes

Break 1 

Color Up All Green and Dark Blue Chips 

10 minutes

Level 5 

100 

200 

10 minutes 

Level 6 

200 

400 

10 minutes

Level 7 

400 

800 

10 minutes

Level 8 

1000 

2000 

10 minutes 

Level 9 

2000 

4000 

10 minutes

Level 10 

4000 

8000 

10 minutes 
QUICK RULES & ETIQUETTE
2 
Bluewater Bay Poker Club 
Venue, Strange Colt Brewery QUICK GUIDE AND RULES SHEET  
We ask that all guests remember that this is a free poker event for community comradery. Since  all players may not have the same skill level, some mistakes may be made, so players should be  patient and cordial at all times. We have some rules that will be in effect: 
Cursing, swearing, and verbal abuse will not be tolerated. Players engaging in such  behavior will be removed from the poker tournament. 

Please refrain from criticizing another player's play.  

Keep your chips on the table and visible at all times—with larger denominations on top  and/or in front of your chip stack. 

Poker chips may not be given to another player in the tournament. 

Do not handle another player's chips. While you may give another player change for chips,  you may not give chips to another player.  

Protect your cards so that no one else can see them. Keep your cards on the table at all  times (holding cards against your shirt or putting them in your pocket or lap is not allowed). 

•

You may leave the table at any time (e.g., to get a drink, go to the restroom, etc.).  During your absence, cards will be dealt to your seat and folded. Your blinds will be put  into the pot during your absence.  

Speaking on mobile phones is not allowed while sitting at the table. If you need to use the  phone, you must get up from the table.  

It is each player's responsibility to follow the flow of the game. Play in turn. Do not act out  of turn.  

At no time should any player or spectator make statements that could unfairly influence  the play of a hand. This includes commenting on mucked cards and discussing possible hands.  

Do not splash the pot. When making a bet, announce your bet and place the chips in front  of your cards towards the center of the table. Do NOT throw the chips into the pot. 

•

String bets are not allowed. If your intention is to bet $100, then you must either  announce your bet OR move enough chips to cover the bet into the pot in one motion.  You may NOT take $50 and put it in the pot and then go back into your chip stack for another $50 to complete your bet without announcing your bet.  

Verbally announce your action—call, raise, fold, check, bet.  

You may not say "I call your bet and raise you…" You must announce your raise or  intention to raise. 

Do not expose any cards until the showdown.  

In a showdown situation when there are no more opportunities for betting (this happens most often when it's heads-up play and one of the players is all-in), the players in the hand  must turn their cards over immediately.  

Rabbit hunting (asking to see what cards would have appeared, had you bet) is not  allowed

(unless you have table consensus to do so…remember it's for fun).

•

Agreeing to "check-down" a hand after a player has gone all-in is not allowed. 
3 
Bluewater Bay Poker Club 
Venue, Strange Colt Brewery QUICK GUIDE AND RULES SHEET  
If a player decides to muck (discard) his/her cards, that player is allowed to do so without  his/her opponent seeing the cards. Once the cards hit the muck, that player is no longer  in the hand and cannot win the pot. The remaining player does not have to show his/her hand in order to win the pot.  

If the dealer exposes a card while dealing, dealing continues in order with the last card  being dealt going to the person whose card was exposed. The exposed card becomes the  burn card. In instances where two cards are exposed by the dealer while the cards are being dealt, a misdeal is declared, and the cards are reshuffled and re-dealt. If a player  accidentally exposes his/her cards during a hand, the entire table must be shown the cards  and play continues.  

Be cautious with food and drinks at the table.  
Complete Rules List Is Maintained In Poker Binder 
If you have any suggestions, modifications, or rule clarity, please contact the TD. 
Bluewater Bay Poker Club
Venue, Strange Colt Brewery
Fun Free Poker Tournament Rules
Our philosophy is simple: don't play our FREE poker tournaments (FFPT) if you don't
like the rules or how they are conducted. Aside from this, we have no control over the
furniture, the food, the beverages, the bathrooms, the lighting, the service, parking,
etc. at the host location.
In the BWB Poker League, people can mingle with others, support our community small
businesses, eat delicious food and drink cold beverages of their choice while playing fun
free poker games. In spite of the fact that we offer free poker games and have rules for
everyone to follow, we understand there is a need to cater to the nature of competition.
As part of the BWB Poker league, 1st and 2nd place prizes will be provided by the host
(as available). There will also be a quarterly championship "crowning" awarded to the
Top 2 players who accumulate the most points. Please note: We are still in discussions
with our host about awarding the Top 3-point leaders.
BWB Poker Club Points System
In order to maintain our philosophy of FREE weekly poker tournaments, community
bonding, and supporting our local small businesses, we won't hold a final table
tournament at the end of the quarterly season.
We will use a simple points system that will provide that desired competitive nature.
This will prevent potentially driving away players who may not be able to attend every
week or who may have had a poor poker night. At the end of the day, this league is
primarily about having fun and bonding with others in the community. Our points system
gives all players, even low-scoring ones, a shot at making a comeback and still being
crowned champion at each quarter.
A champion is determined by the highest point totals earned during each specified
quarter.
Points will be awarded as follows:
• 1 point is awarded for players Signing in and Participating
• 5 points is awarded for First place
• 3 points is awarded for Second place
• 2 points is awarded Third place
• 2 points is awarded for making it to final table with the Bounty Chip
v Bounty Chip 1 (B1) is randomly assigned "Nightly Bounty."
v Bounty Chip 2 (B2) is assigned to the previous week's winner. If previous
winner is not present, then chip will be assigned to the 2nd or 3rd place
winner or randomly assigned if all 3 are not present at least 5 minutes
prior to the start of game.
Quarterly Champions Winners will receive
• Prizes – TBD (still in discussions with Host Management)
CURRENT QUARTER SCHEDULE (2 November – 28 December 2022)
Note: Awarding quarter tournament points starts on 2 November 2022
2 November*
9 November
16 November
23 November
30 November
7 December
14 December
21 December
28 December
QUARTERS SCHEDULE
1 January – 30 March – WINTER
1 April – 30 June – SPRING
1 July – 30 September – SUMMER
1 October – 31 December – FALL
Any questions or concerns can be addressed to the BWB Poker League Director(s).